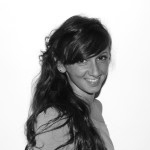 Insegnante di Danza Moderna, Contemporanea e Hip hop
Consegue nel 2006 il diploma di tecnica classica RAD (Royal Academy of Dance di Londra);
nel 2008 si laurea al DAMS di Padova;

consegue nel 2012 il diploma per insegnanti HIP HOP SCHOOL CERTIFICATE presso l'IDA.
Nasce a Padova nel 1983, inizia a studiare danza all'età di dodici anni presso la scuola Ballet Center di Lucia Galli a Padova. Studia classico, moderno, contemporaneo e hip hop.
Prima ancora di terminare i suoi studi di danza, nel 2004 ottiene una borsa di studio per il corso di formazione professionale presso l'OPUS BALLET di Firenze, diretta da Daniel Tinazzi e Rosanna Brocanello.
Studia con vari insegnanti tra i quali Giuseppe Carbone, Iride Sauri, Herida May ecc, e si perfeziona spostandosi tra Parigi, Vienna, Gießen (Germania) e l'Italia.
Tra le prime esperienze lavorative balla con la compagnia giovanile A.B.C. di Maurizio Bellezza e Michele Vegis, Leggere Strutture di Mattia Gandini. Successivamente lavora con Venezia Balletto di Sabrina Massignani e come cheerleader per Benetton Basket e Sisley Volley su coreografie di Steve Lachance, Garrison, Carl Portal, Sabrina Massignani.
Prima, come ballerina e, in seguito, come coreografa vince diversi concorsi tra i quali il Grand Prix di Barcellona (primo posto con Estratto di Zone d'ombra) e la 4° edizione del Progetto Supporter Danza 2012 di Arteven presso il Teatro Toniolo di Mestre con il passo a due In controluce, coreografie di Laura de Nicolao e Andrea Rampazzo (secondo posto e l'invito a partecipare all' edizione successiva al Teatro Comunale di Vicenza).
Tra le esperienze professionali di rilievo, entra a far parte del progetto internazionale di La Biennale di Venezia, Arsenale della Danza 2010 – The Art of Performer, diretto da Ismael Ivo. Poi, su invito del direttore Ismael Ivo, partecipa nuovamente al progetto nel 2011, ballando negli spettacoli Oxigen e Babilonia: il terzo paradiso; partecipa alla tournée nei capoluoghi veneti, alla tournée in Brasile nelle città di San Paolo e Santos e al progetto Coreographic Collision con coreografie di Daniele Ziglioli.
Nel 2012 balla per la Compagnia Fedora Award le coreografie di Ismael Ivo nello spettacolo Butterfly Effect.
Attualmente lavora come danzatrice freelance per le compagnie Sylvio Dufrayer Dance Company, Fabula Saltica – Balletto di Rovigo di Claudio Ronda.